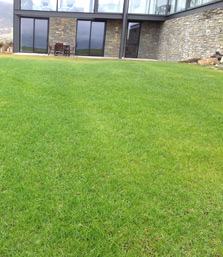 Hydroseeding
Queenstown Hydrolawn Limited
Building New, Renovating, Replacing an existing lawn, Tidying up a Bank, be it a Commercial Property, Sports Facility or Residential Home, Need a Dust Suppressant? A Hydrowlawn is an economical smart and healthy choice for your land. Let us work with you to best meet your needs!
So what is it?
Hydroseeding (hydraulic mulch seeding, hydro-mulching, hydraseeding) is a planting process that uses a slurry of seed and mulch. It is often used as an erosion control technique on construction sites, or as an alternative to the traditional process of broadcasting or sowing dry seed.
Why use it?
A quick application that is instant green, fast germinating and ensures rapid growth. We use the highest quality grass seed, fertilizer and wood fiber mulch. We use a seed blend formulated for Central Otago lawns, and a high quality, balanced starter fertilizer. The mulch is 100% wood fiber mulch with a non-toxic green dye (the dye will not stain). The wood fiber mulch retains moisture and helps to protect the seeds. This will decompose to a natural fertilizer. Follow our simple Maintenance plan post application and within a matter of weeks you will have a lovely lawn ready to mow.
Call us today to discuss your needs, secure a quote and be on your way towards a healthy luscious lawn. All services available – Preparation, Irrigation, Application and Aftercare and Maintenance.
Contact Tom on 021 714 111
Email: